If your customer needs a unique, bespoke product that is reusable and made with fabric, this is undoubtedly your best bet. We can manufacture a bag that best suits your needs and offer you a wide range of products that will help boost your brand's visibility.
You can choose whether to have your merchandise designed and manufactured within the country, which means your products would be 100% made in Spain, or to have your products imported from other countries, in which case you will able to find as many kinds of fabric and finishes as you can imagine.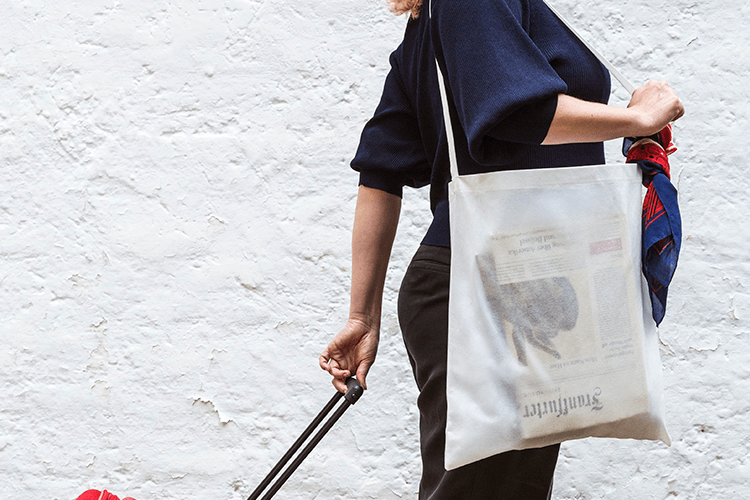 LOCALLY MANUFACTURED BAGS
As long as you have an idea in mind, even though it doesn't match any of the items in our catalogue, we can make it for you. Please note that:
We manufacture on a minimum order of 100 units.
You will receive your order within a period of 3 to 5 weeks approximately depending on the product.
You can create all kinds of fabric items with all the personalised features that your clients demand.
Products will be 100% made in Spain.
IMPORTED BAGS
This option is available on a minimum order of 2,000 units.
The delivery time ranges from 6 to 14 weeks, depending on whether it is being transported by air or by sea.
Prices can be adjusted depending on the order volume.
You will find a wider variety of materials, such as raffia and laminated non-woven fabric.
You also get the option to have a model from our catalogue manufactured at a cheaper cost.
WHAT ARE THE ADVANTAGES OF A CUSTOMISED MANUFACTURING OF BAGS?
YOUR PRODUCT WILL HIT THE MARK!
When you decide to manufacture your promotional merchandise, you can choose from a wide variety of options to offer the best solutions to your most demanding clients and make sure that they find exactly what they are looking for: aprons, tea towels, toiletry bags, purses, garment bags, headrest covers, etc.
YOU CAN DESIGN EVERY DETAIL OF YOUR PRODUCT
Opting for bespoke manufacturing of your merchandise opens the door to a myriad of possibilities. It will allow you to create an exclusive promotional product with a unique design, finish, add-ons, print, etc.
MAXIMUM BRAND VISIBILITY
With custom-manufactured products, you can boost your brand awareness by printing your logo the way you want. The possibilities are endless: printing with a bleed (on the edges or side seams), printing on the side gussets, printing on the bottom gusset, off-centre printing, printing on the borders, etc.
We also use different printing techniques to give your promotional product a perfect finish: screen printing, digital printing, four-colour printing and screen printing with prepress. We will assist you in choosing the printing technique that best suits your design.
FABULOUS FINISH
Great make and finish can truly give your promotional product an extra edge.
Bespoke manufacturing also allows you to decide on the quality of its make and finishing touches so that you can create a superior-quality product.
LET YOUR IMAGINATION SOAR AND DESIGN YOUR PERFECT REUSABLE PRODUCT. ARE YOU READY?