Non-woven double drawstring sack with 30x30 cm print area 40x50 cm.
Data sheet
Size

40x50 cm.

Gramaje

80 gr.

Type of bag

Sack

wide print area

30

high print area

30
What are the main features of this bag?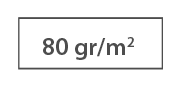 This 80 gsm non-woven sack measures 40x50 cm and has a double drawstring closure. This sustainable promotional packaging is available in three essential colours.
If you wish to print your promotional message on the bag, we can offer different printing options:
For orders of more than 100 units, you can request screen printing for your artwork
For orders of less than 100 units, you can get your design digitally printed
¿Necesitas más información?
Printing:
Si elijes serigrafía podrás ver tu precio ahora mismo, si elijes digital tendremos que ver tu imagen para poder valorarlo. Si tienes dudas consulta nuestra página TIPOS DE IMPRESIÓN o escríbenos a info@labolsaolavida.com
Printing faces:
Puedes imprimir a una cara, a dos caras con la misma imagen o a dos caras con distinta imagen. Para dos caras con diferente imagen por favor consultar precios.
Number of inks:
Elige el número de tintas que quieres para imprimir tu bolsa. Debes tener en cuenta que:
La impresión serigráfica sólo admite tintas planas. Puedes elegir cualquier color de la pantonera Solid Coated. Si tu color no está en esa pantonera podemos sacar el más aproximado. En el apartado OBSERVACIONES puedes incluir la referencia del pantone/color elegido. El resultado final puede presentar ligeras variaciones cromáticas en función del material y el color sobre el que se imprima.
La impresión en cuatricromía es resultado de la combinación de las cuatro tintas planas cyan, magenta, amarillo y negro.
La impresión digital simula un acabado fotográfico siempre con las limitaciones que las bolsas y el color presentan. Recuerda que solo se pueden hacer sobre bolsas de color natural o blanco.
Consulta nuestro enlace TIPOS DE IMPRESIÓN y el de INSTRUCCIONES DE IMPRESIÓN.
Recuerda que:
Para pedidos sin impresión no hay pedido mínimo.
Para pedidos con impresión en serigrafía el pedido mínimo son 100 unidades.
Para pedidos con impresión digital no hay pedido mínimo, pero debemos valorar la imagen que quieres imprimir para poder darte presupuesto
What are the details of this product?
Size: 40 x 50 cm.
Cotton: 80 gr./m2
Max. printing area: 30 x 30 cm.
How do you take care of this cotton bag with two short handles?
Do not wash in the washing machine
Do not brush or scratch the fabric with a brush
Do not iron the bag
Dry clean very carefully so as not to damage the fabric
What is this cloth bag used for?
Advertising events
Textile shops
Food shops
Quality promotional use
Why is this bag of high quality?
Making and finishing of a double laced non-woven sack:
The non-woven products of our stock have the interior and the handles reinforced with finished seams, composed with a minimum grammage of 80 gr/m2, guaranteeing a great resistance and firmness as a support for serigraphy, at the same time that it improves the opacity and texture of the bag.
Types of printing:
In our workshop there are 3 types of printing: silk-screen printing, four-colour printing and digital printing. As the first of these types is always applicable to all products, the technique will vary according to the needs of the image to be printed, the quantity of inks and the style/colour of the bag chosen.
Data sheet
Size

40x50 cm.

Gramaje

80 gr.

Type of bag

Sack

wide print area

30

high print area

30
Related Products
(4 other products in the same category)
Política de seguridad (editar con el módulo Información de seguridad y confianza para el cliente)

Política de envío (editar con el módulo Información de seguridad y confianza para el cliente)

Política de devolución (editar con el módulo Información de seguridad y confianza para el cliente)